Frequently Asked Questions
Frequently Asked Questions
Power Outage Information
My area has a power outage, but why isn't it listed in the power outage information website?
The Power Outage Information Public Service does not list information on power outages lasting a short time (five minutes or less), power outages associated with work on lines and equipment, etc., and momentary voltage drops. Additionally, we may not be able to provide power outage information in the following cases if they cannot be automatically detected by our system: power outages caused by faults in low voltage (100 V or 200 V) equipment, by disconnections in the service lines running through your building, or by equipment malfunctions in the building you are in, etc. There may also be instances of a time lag between when a power outage is identified either on site or by customer notification and when information on that power outage is provided.
Examples of when information on power outages is not listed on the Power Outage Information Public Service
Power outages may occur due to faults in equipment underneath high-voltage distribution lines.
Flick for details.

Power outages due to the above mentioned faults in service lines or transformers may not be automatically detected by our system. We identify the power outage in the following manner and immediately work to restore power.
Identifying an equipment malfunction
Receiving a customer notification
If the home, apartment or building next door has electricity, then the power outage may also be due to a tripped breaker in the room.
Flick for details.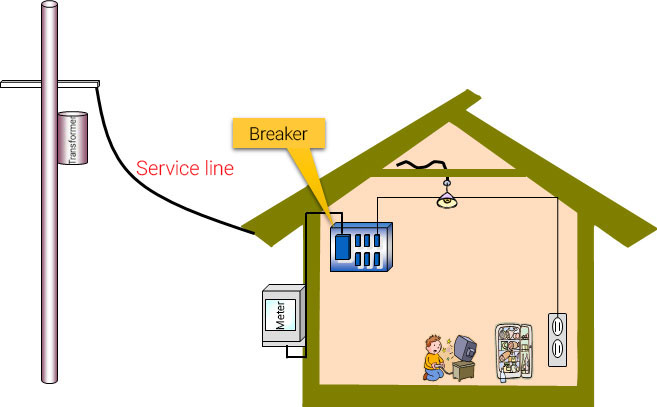 Whether or not the electricity is on may also depend on the breaker. (What to Do During a Power Outage)
Please contact the Power Transmission and Distribution Phone Line on

0800-777-3081

(free dial) if you are unclear about how to operate the breaker, or if you have switched the breaker back on and there is still no electricity.
Thunder Information
How can I know the place of thunder occurring now?
Kansai Transmission and Distribution uses observed weather information to provide notifications on thunder and thunder clouds.
You can check the map for locational information on lightning strikes in the Kansai region.
The listed information includes current and past data (10 minutes-, 30 minutes-, 1 hour-, 3 hours-, and 6 hours-ago), and it is updated every ten minutes.
Search by Keyword
Use any keyword to search the FAQ.
Insert a space between each word when you are searching using multiple keywords.
Inquiries
We take inquiries by email.