Safe and Stable Supply
Initiatives to Deal With Aging — Identify
Utilization of corrosion prognosis map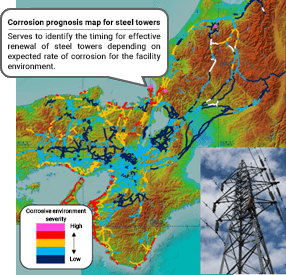 The rate of deterioration of a steel tower varies greatly depending on the facility environment, as illustrated for example by the fact that rust is more likely to develop in coastal areas due to salt deposition.
In order to perform maintenance that reflects these differences, and with particular regard to the problem of rust (corrosion state), we are calculating the expected rate based on factors such as distance to the coast, direction of prevailing winds, humidity etc. This allows us to identify the timing for effective maintenance and renewal depending on the expected rate of deterioration for the location.
Utilization of new technology (drones)
For more effective monitoring and inspection of the state of aging in overhead power transmission facilities, we are in the process of harnessing advanced drone technology which will make it possible to check facilities while eliminating the need for personnel to hike mountains and climb towers. Preparations for enhancing the efficiency of operations by using such tools are under way.
Deterioration analysis of underground cables
There are two types of underground cables: OF cables that use paper and oil for the insulator and CV cables that use cross-linked polyethylene. We analyze the state of deterioration while taking into consideration the different characteristics of each.
With OF cables, a specific gas is generated in the oil as the deterioration progresses. This gas is sampled and its volume and components are analyzed to determine the state of deterioration.
A characteristic of CV cables is that the insulator deteriorates over time. A voltage is applied to the removed CV cable, and a sampling survey is performed to measure the breakdown voltage, thereby identifying deterioration trends.
In addition, to find a degradation phenomenon called water tree that expands in a dendritic manner, starting from very small foreign substances and voids generated when the CV cable is used for a long time in an environment with high moisture, the loss current method is used. This involves measuring and analyzing the loss current flowing in the insulator to assess the water tree type deterioration.
Origin and spread of water tree phenomenon

Flick for details.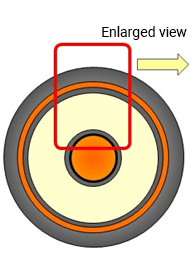 CV cable
structural drawing
(1) Water ingress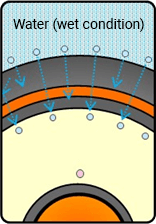 Moisture penetrates the insulator over time
(2) Water condenses on core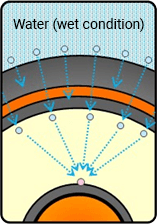 Water accumulates on electric field concentration point (core)
(3) Water tree forms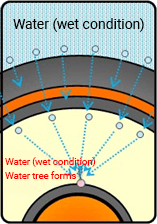 Water tree forms
(4) Water tree expands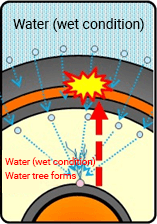 Water tree expands and damages insulator
Fault diagnosis by analysis of gas in oil
Inside an oil-filled transformer, the coil is insulated with winding insulating paper and cooled with insulating oil. If an internal abnormality occurs due to aging, decomposition gas is generated in the insulating oil. Depending on the volume and composition of the decomposition gas, the type of problem (internal discharge, overheating etc.) and its severity can be diagnosed.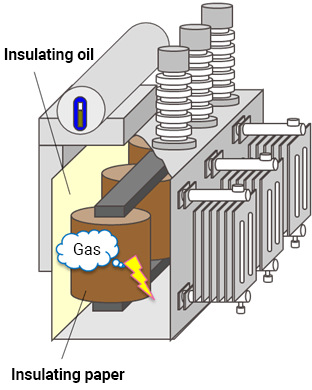 Collection of insulating oil

| Fault type | Gas generated |
| --- | --- |
| Overheating of insulating oil | H2, CH4, C2H6, C2H4, C2H2* |
| Overheating of oil-impregnated solid insulator | H2, CH4, C2H6, C2H4, C2H2*, CO, CO2 |
| Discharge in insulating oil | H2, CH4, C2H4, C2H2 |
| Discharge in oil-impregnated solid insulator | H2, CH4, C2H4, C2H2, CO, CO2 |
* In case of high temperature heating
H2: Hydrogen, CH4: Methane, C2H6: Ethane, C2H4: Ethylene,
C2H2: Acetylene, CO: Carbon monoxide, CO2: Carbon dioxide
Source: Electric Technology Research Association, Vol. 54, No. 5
Degradation diagnosis by furfural analysis
Since the deterioration of the winding insulating paper inside the oil-filled transformer affects the life of the transformer, the furfural value of organic compounds in the insulating oil is measured, and the average degree of polymerization is calculated from this value to determine the deterioration degree of the insulating paper.
Furfural: Dissolved matter generated by degradation and decomposition of the cellulose molecules that make up the insulating paper.
Average degree of polymerization: A measure of the length of the cellulose molecules that make up the insulating paper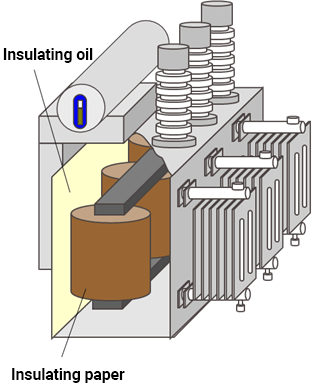 Collection of insulating oil

Average degree of polymerization: 1000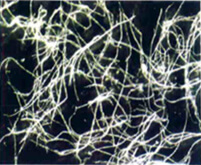 Average degree of polymerization: 400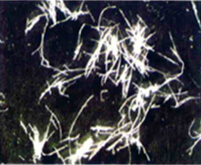 Average degree of polymerization: 300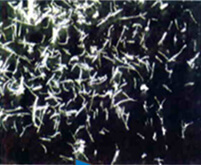 Insulating paper fiber
Lower average degree of polymerization (Increase in amount of furfural molecule deposit)
Life level 450
Enhanced facility patrol information data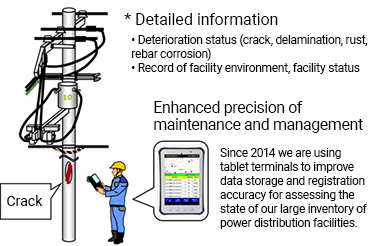 Our company has installed concrete poles throughout the Kansai area. But even with poles installed in the same year, the rate of deterioration varies greatly depending on the facility environment.
In order to enable appropriate countermeasures such as repairs based on the difference in the rate of deterioration, concrete poles are individually managed, and patrols are conducted to record and accumulate detailed information.
While also incorporating external expertise, data analysis combining past patrol results and removal inspection results etc. makes it possible to ascertain the deterioration rate and estimate the service life of concrete poles to determine the optimal timing for repair and renewal.
Accumulation and analysis of fault data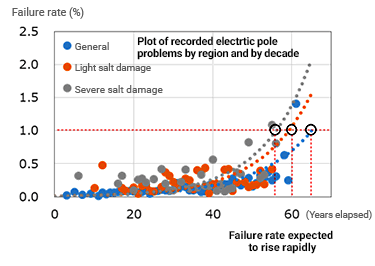 The progress of internal rebar corrosion, which is one of the degradation aspects of concrete poles, depends on factors such as salinity of the air, which is especially pronounced in areas near the coast. Based on this knowledge, an analysis of past failure data by salinity concentration (salt damage area setting) allows a detailed prognosis of failure rates (life expectation).
Initiatives to Deal With Aging — Extend
Life extension by painting
Regular patrols and inspections are conducted to ascertain the state of deterioration and abnormalities in steel towers. Appropriate maintenance is performed according to collected data, in order to delay the progress of deterioration and extend the life of the tower as much as possible.
Example of steel tower painting
Overall rust occurrence less than 20%
Overall rust occurrence 20% or more

Continuous monitoring of rust condition by patrols etc.
Determining paintability
by film thickness measurement etc.

If the tower is not painted, parts will corrode and a replacement costing about 30 times more will become necessary.
In order to enable prolonged use of the tower, it is important to extend its service life by applying paint before corrosion occurs to reduce costs.
Sampling survey and life extension evaluation by loss current method
OF cable is considered to be resistant to deterioration and highly reliable, but the use of oil requires maintenance. CV cable is now the mainstream, because of advantages such as low manufacturing cost and easy maintenance.
With CV cable, to evaluate the deterioration status specifically according to usage, separately from its design life, we employ sampling surveys and water tree deterioration diagnosis to determine how deterioration is progressing and whether the service life can be extended. This results in increased accuracy of service life prediction.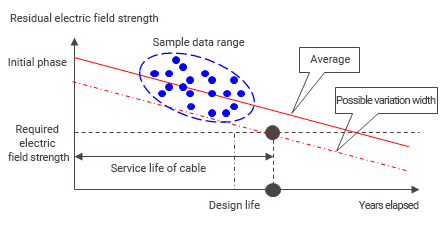 Life prognosis with average polymerization evaluation (Remaining life evaluation)
One of the tools used when considering transformer renewal is life prognosis with average polymerization evaluation (remaining life evaluation). The average degree of polymerization is a value that indicates the average number of connected molecules of the main constituents in the paper material.
As the average degree of polymerization of the winding insulating paper used inside a transformer significantly affects its service life, we utilized data from the Electric Technology Research Association to develop our own unique analysis methods for assessing the degree of deterioration, and we are using the results for service life prediction.
A large volume of actual measurement data of transformers accumulated by Kansai Transmission and Distribution enabled a revision of conventional life estimation methods, contributing to an extension in estimated life expectancy.
Service life estimation
Source: Electric Technology Research Association, Vol. 54, No. 5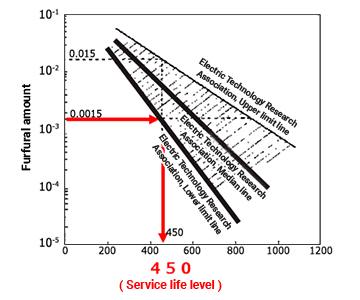 Relationship between furfural and average degree of polymerization
(Kansai Transmission and Distribution, 77 kV and below)
Appropriate maintenance measures according to deterioration state
For concrete poles with problems such as cracks and delamination, suitable maintenance steps carried out at a stage when deterioration is still minimal will reduce the necessity for renewal of electric poles and extend the service life as much as possible.
Deterioration of electric poles
Flick for details.
Step
Deterioration process
Strength reduction
Countermeasure
1
Cracks develop
Almost none
Repair cracks (immediately when found)

Repair deteriorated part before renewal of electric pole becomes necessary

2
Moisture and oxygen penetrate to internal rebar from cracks (Reduced anti-rust effectiveness of concrete for rebar)
3
Internal rebar rusts and expands, increasing pressure from inside
4
Surface concrete lifts and peels off due to internal pressure
Slight
reduction in strength
5
Surface concrete peels off and drops, increasing likelihood of water and oxygen ingress
6
Further enlarged delamination area causes excessive thinning or breaking of rebar
Excessive
reduction in strength
Rebuild electric pole
7
Strong moisture and oxygen ingress leads to excessive delamination
8
Excessive reduction in strength makes recovery impossible
Before delamination repair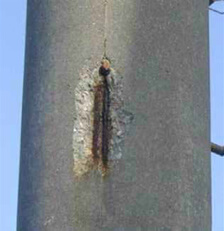 Repair of delamination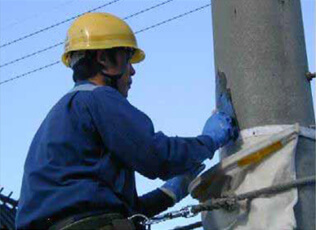 After delamination repair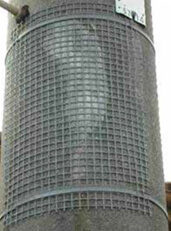 Initiatives to Deal With Aging — Reduce
Slimming down of transmission and substation facility network
As power demands decrease, we are actively working on 'slimming down' our facilities, through measures such as consolidation of facilities, reduction of capacity, and re-assignment of facilities with low utilization rates, to match the scale of local demand. With regard to transmission and substation facilities, we compare the "renewal" versus "consolidation" options at the point when aging requires investment, and we take measures to reduce costs while ensuring stable electricity supply.
Optimization of power distribution transformers

Slimming down of power distribution facility network
At the point where new construction or rebuilding of concrete poles becomes necessary, we redesign the facility layout to reduce the number of required poles while maintaining appropriate strength. In addition, concrete poles that have become unnecessary due to the abolition of electricity contracts are removed after checking aspects such as whether a subsequent supply schedule is in place.
(Old configuration)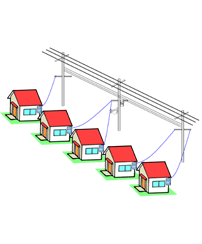 (After optimized reconfiguration)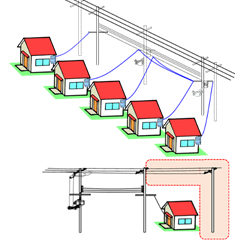 Safe and Stable Supply Menu